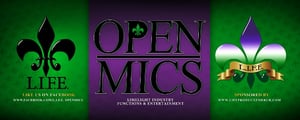 $

150.00
LOOKING FOR THE BEST TALENT IN THE US TO JOIN OUR L.I.F.E. TEAM!!!
FEATURING LOCAL & OUT OF STATE TALENT COMPETING FOR SPONSORSHIP, PRIZES, AND A CHANCE TO COMPETE IN MIC 4 L.I.F.E. FOR A MANAGEMENT CONTRACT!
(AT EACH OF OUR L.I.F.E. OPEN MICS, WE WILL BE SELECTING A FINALIST TO PARTICIPATE IN OUR MIC 4 L.I.F.E. HELD IN DECEMBER, IN WHICH ONE LUCKY WINNER FROM EACH CATEGORY WILL WIN A DAZ INDUSTRIES MANAGEMENT CONTRACT FOR 1 YEAR!)
MUSICIANS, DJ'S, CHOREOGRAPHERS, PHOTOGRAPHERS, VIDEOGRAPHERS, POETS, COMEDIANS & ARTISTS WELCOMED!
YOU MUST BE 18+ TO COMPETE
*16+ WILL BE ALLOWED TO PERFORM IF ACCOMPANIED BY A PARENT. (16-17 yr olds must be out of the building by 10pm)
PERFORMER/REGISTRATION SUBMIT MATERIAL TO SUBMIT@LIFEARTISTMANAGEMENT.COM
L.I.F.E. OPEN MICS RETURNS!!!
SEE YOU THERE!!!
LOCATION TO BE RELEASED.
~RAFFLES AND OFFERINGS FROM OUR SPONSORS~
18+ TO PARTY/21+ TO DRINK
*TO SPONSOR THIS EVENT CALL 855-944-LIFE
**ALL FEES ARE NON-REFUNDABLE
***DAZ INDUSTRIES MANAGEMENT CONTRACT REQUIRES A BACKGROUND CHECK AND DRUG TEST OF ALL MEMBERS AT THE EXPENSE OF THE ARTISTS. IF AND ONLY IF YOU PASS WILL YOU BE AWARDED!
***************************************************
PRIVACY POLICY LINK:
https://www.lifeisthekey.com/L.I.F.E_PRIVACY_POLICY.html
TERMS OF USE LINK:
https://www.lifeisthekey.com/L.I.F.E.TERMS_OF_USE.html
ADDITIONAL REQUIREMENTS, POLICIES, AND FORMS FOUND ON LINK:
https://www.lifeisthekey.com/L.I.F.E_OPEN_MICS.html
*BY PURCHASING YOU ACCEPT THE TERMS AND CONDITIONS AND ACKNOWLEDGE YOU HAVE READ THEM.