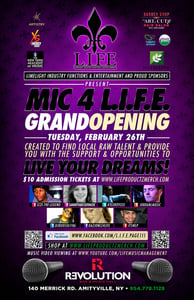 $

2,500.00
L.I.F.E. MAKES SELLING PRE-SALE TICKETS ON-LINE TO YOUR EVENT A BREEZE...
TELL US WHAT YOU WANT, AND WE WILL GET IT DONE!
-INCLUDES 1 YEAR MANAGEMENT
-1 BLOCK ON OUR ON-LINE STORE
-UP TO 3 EVENTS @ A TIME
-PROMOTER/DISCOUNT/AGENT DISCOUNT CODES AVAILABLE
*ADDITIONAL SERVICE FEES MAY APPLY
***************************************************
PRIVACY POLICY LINK:
https://www.lifeisthekey.com/L.I.F.E_PRIVACY_POLICY.html
TERMS OF USE LINK:
https://www.lifeisthekey.com/L.I.F.E.TERMS_OF_USE.html
*BY PURCHASING YOU ACCEPT THE TERMS AND CONDITIONS AND ACKNOWLEDGE YOU HAVE READ THEM.