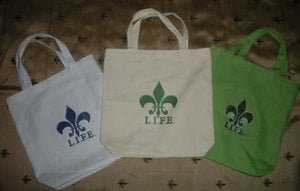 $

40.00
CUSTOMIZE YOUR VERY OWN CANVAS TOTE BAG FOR A PARTY, EVENT, OR COMPANY!
A PICTURE, A DESIGN, OR LETTERING!
TOTE BAG COLORS AVAILABLE ARE:
WHITE
BLACK
PURPLE
GREEN
BLUE
PINK
GREY
*WHEN YOU PUT IN ORDER YOU WILL RECEIVE AN E-MAIL TO PROVIDE INFO FOR DESIGN.
-TAKES 30 DAYS TO COMPLETE AND SHIP ORDER
***************************************************
PRIVACY POLICY LINK:
https://www.lifeisthekey.com/L.I.F.E_PRIVACY_POLICY.html
TERMS OF USE LINK:
https://www.lifeisthekey.com/L.I.F.E.TERMS_OF_USE.html
*BY PURCHASING YOU ACCEPT THE TERMS AND CONDITIONS AND ACKNOWLEDGE YOU HAVE READ THEM.